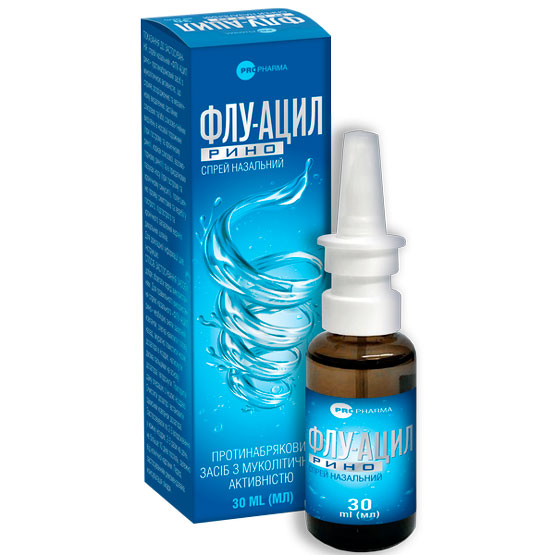 Medical devices
Flu-Acyl Rino
FLU-ACYL rino - a combined nasal spray with decongestant action is recommended for use with colds and SARS. Eliminates thick and viscous nasal mucus with rhinitis and sinusitis. It has a mucolytic, antibacterial and anti-inflammatory effect. Read more about the dosage, method of application and features in the instructions.
Information
Indications for use (instruction): Flu-Acyl Rino
Nasal spray "FLU-ACIL ryno", a decongestant with mucolytic activity, promotes liquefaction and mechanical removal of stagnant mucous membranes and/or mucopurulent secretions in the nasal cavity (in acute and chronic rhinitis, mucosal plugs, vasomotor rhinitis) and in the paranasal sinuses ( with acute and chronic sinusitis), relief of symptoms and the course of acute, subacute and chronic inflammation of the upper respiratory tract.
How to use
Shake well before use. For the correct spray use it is necessary to remove the protective cap, slightly tilt your head back, carefully place the nozzle of the dispenser in the nostril, press two fingers on the base of the dispenser and inject. Repeat this operation with the other nostril. Clean the dispenser and install the protective cap on the dispenser.
Apply 2-3 injections into each nostril 2-3 times a day, no more than 10 days in a row, depending on the clinical picture. Before use, it is recommended that you consult a doctor.
Contraindications
Individual intolerance to the components. Children's age up to 3 years. The period of pregnancy and lactation.
Composition
1 bottle 30 ml contains: active substances: N-acetylcysteine 1.8 g, sodium chloride 0.9 g. Excipients: sodium hydroxide, sodium edetate, purified water. No synthetic preservatives.
Release form
30 ml nasal spray in a glass bottle with a vertical nebulizer and a protective cap.
Manufacturer
Pharma Line S.r.l., Via Bertani 2, 20154 Milan, Italy.
Sanitary and hygienic conclusion
No. 12.2-18-3/17171 from 08/05/2019.
Advertising of a medical device. Not a medicine. Before using a medical device be sure to consult a doctor.

This section of the site contains information about medicines, their properties, methods of use, as well as other specialized information that is intended for healthcare professionals. The information on medicines contained in this section is not a guide for self-diagnosis and / or treatment. LLC SA Pro-Pharma is not responsible for possible negative consequences arising from the independent use of information from this section. Using the information from this section, you do it yourself, understanding that: self-medication can be harmful to your health, you must read the instructions and consult a doctor before using medicines.