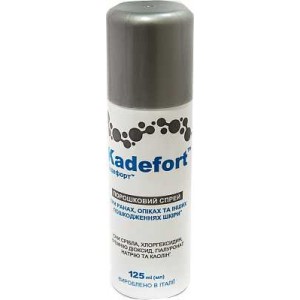 Medical devices
Kadefort
Kadefort
Spray "Kadefort" - recommended for use for the purpose of wound healing and comprehensive protection against infection in burns, scratches and other damage to the dermis, especially when exudate is released. The action of the components is aimed at tissue regeneration.
Information
Indications for use (instruction): Kadefort
Kadefort helps to create physiological conditions for the regeneration of damaged skin. Thanks to the powdery structure, it creates a protective barrier and contributes to: healing of wounds, scuffs, minor burns and other skin lesions, especially in the presence of exudate.
How to use
Before use, thoroughly clean and dry the skin. It is necessary to shake the spray can and spray the powder with a thin layer only on the damaged area of the skin from a distance of 10 cm. Do not grind: the powder should form a continuous protective layer. Use once a day.
Contraindications
Hypersensitivity to any component. Children's age up to 3 years. No interactions with other substances have been reported.
Composition
Active components: kaolin, SCX-powder (silicon dioxide in combination with silver ions and chlorhexidine), sodium hyaluronate. Excipients: silicon dioxide. Propellant: butane-propane isobutane mixture.
Release form
Spray bottle, 125 ml.
Manufacturer
РАVIA FARMACEUTICI S.r.I., Via Vistarino, 14 / F, 2701 Copiano (PV), Italy, tel. / fax: (+39) 0382 974333.
Sanitary and hygienic conclusion
No. 602-123-20-3 / 6768 dated February 21, 2018.
Advertising of a medical device. Not a medicine. Before using a medical device be sure to consult a doctor.