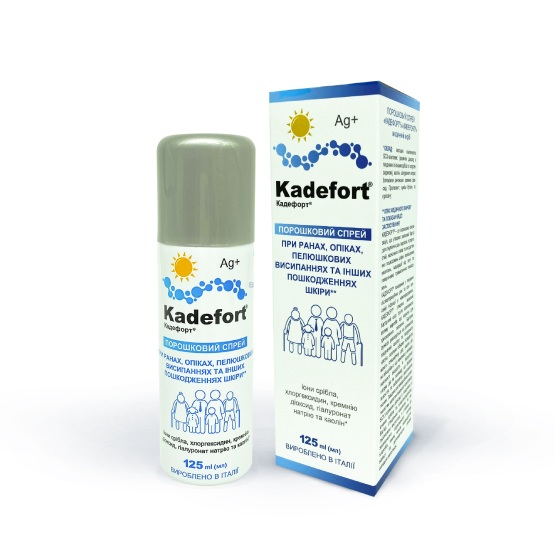 Medical devices
Kadefort
Kadefort
Spray "Kadefort" - recommended for use for the purpose of wound healing and comprehensive protection against infection in burns, scratches and other damage to the dermis, especially when exudate is released. The action of the components is aimed at tissue regeneration.
Information
Indications for use (instruction): Kadefort
KADEFORT® is a powder composition, forms a protective barrier (film) for the treatment of:
wounds;

ulcers;

scuffs;

minor burns;

exudative lesions of the skin;

diaper rash;

maceration from sweat;

superficial traumatic lesions.
KADEFORT® is shown in the treatment of postoperative wounds and with a bustard infection in newborns.
KADEFORT® forms a protective barrier against aggressive microbial attack, which is beneficial to accelerate healing. The barrier function is realized with a combination of kaolin and sodium hyaluronate, since both ingredients have a specific effect:
Kaolin acts as an absorbent, which is important in the case of the presence of scud.

Sodium hyaluronate acts as a polymer, forms a film and provides tissue hydration.
Thus antimicrobial properties of the patented SCX complex (silicon dioxide combined with silver ions and chlorhexidine) make the barrier created by kaolin and hyaluronic acid is resistant to external aggressive microbes, thus increasing protection and helping wounds heal faster.
How to use
Use once a day.
Before applying the product, clean the skin with saline and carefully dry it.

Blider shake well before use.

Apply a thin layer of powder only on the affected area, spraying from a distance of 10 cm.

Do not rub: powder must form a protective solid layer.

Change the bandage one or several times a day in the treatment of diaper rash or submamanny erythema, burns and surface traumatic damage.

Repeat the application of powder spray every 48 hours, if the lesions should treat medical personnel.

In the case of open lesions, use wet gauze, like a secondary dressing and a sterile bandage as a coating.
Cautions
Only for outdoor use, not swallow.

Avoid contact with eyes, in the event of any contact immediately rinse with water.

Do not use in case of opening or damage to the package.

Do not sterilize.

After use, carefully close the container.

Do not use after the expiration date.

Stop treatment in the presence of pathological skin reactions, report this to the doctor and the manufacturer.

For use, medical staff is not needed.
Contraindications
Not a single case of overdose, as well as interacting with other drugs and medical substances, is not recorded.
No phenomena of allergic sensitization was recorded, but the presence of aluminum dioxide was established (Al2O3).
Do not apply in case of known hypersensitivity to components. Application during pregnancy and breastfeeding is recommended under the supervision of the doctor.
Precautions for use
Pressure capacity: may explode when heated.

Protect from sunlight.

Do not allow the effect of temperature below 5°C or above 50°C.

Do not calculate and not burn even after use.

Use only for the specified purposes.

Do not go to the eye.

Keep out of the reach of children.

Keep away from heat sources, hot surfaces, sparks, open fire and other sources of fire. No smoking.

For use only in the open space.

In the case of entering or spraying into the eyes, immediately seek qualified medical care or to a specialized center and provide product information specified on the label.
Composition
Active components: SCX complex (silicon dioxide in combination with silver and chlorhexidine ions), kaolin, sodium hyaluronate; auxiliary substance: silicon dioxide.
Propellente: Benta and propane mixture.
Release form
Spray bottle, 125 ml.
Manufacturer
РАVIA FARMACEUTICI S.r.I., Via Vistarino, 14/F, 2701 Copiano (PV), Italy
Authorized representative in Ukraine: LLC "Universal Agency" Pro-Pharma ", Ukraine, 03170, Kiev, Victory str., h. 9, of. 20.
Sanitary and hygienic conclusion
№ 12.2-18-3/28 421 dated 08.12.2020.
Advertising of a medical device. Not a medicine. Before using a medical device be sure to consult a doctor.

This section of the site contains information about medicines, their properties, methods of use, as well as other specialized information that is intended for healthcare professionals. The information on medicines contained in this section is not a guide for self-diagnosis and / or treatment. LLC SA Pro-Pharma is not responsible for possible negative consequences arising from the independent use of information from this section. Using the information from this section, you do it yourself, understanding that: self-medication can be harmful to your health, you must read the instructions and consult a doctor before using medicines.