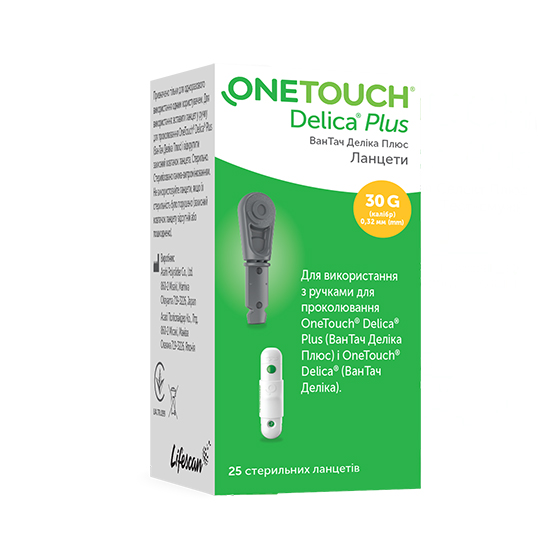 Medical devices
Lancets OneTouch Delica Plus
Lancets OneTouch Delica Plus
OneTouch® Delica® Plus lancets provide virtually painless testing! Designed for use with OneTouch® Delica® Plus puncture handle and OneTouch® Delica® puncture handle.
Service support
Our goal is to provide you with quality medical products.
If you have any questions about OneTouch® products, please contact the LifeScan Advisory Line at 0 800 500 353 (free within Ukraine).
Information
Benefits
Virtually painless testing is achieved through the following features of OneTouch® Delica® Plus lancets (VanTach Delica Plus):
The diameter of the lancet is only 0.32 mm (30 G), which is one of the thinnest.
Reducing the vibration of the lancet (more than 50%) provides an even more accurate, fast and virtually painless puncture.
The super-thin silicone coating on the tip of each lancet results in a smooth soft sliding of the lancet on the skin.
The OneTouch® Delica® Plus handle has 13 levels of puncture depth. Choose the optimal puncture depth for yourself to get a tiny drop of blood.
Manufacturer
Asahi Polyslider Co., Ltd. 860-2 Misaki, Maniwa Okayama 719-3226, Japan / Asahi Polyslider Company Limited, 860-2 Misaki, Maniwa Okayama, 719-3226, Japan.
Representative
LLC "UNIVERSAL AGENCY" PRO-PHARMA ", Pobedy st., 9, office 20, Kiev, 03170, Ukraine
Advertising of the medical device OneTouch® Delica® Plus lancets. Before use, it is imperative to consult a doctor and read the instructions for use of the medical device. Keep out of the reach of children.
Sanitary and hygienic conclusion
№ UA.MD.353-21
Advertising of a medical device. Not a medicine. Before using a medical device be sure to consult a doctor.

This section of the site contains information about medicines, their properties, methods of use, as well as other specialized information that is intended for healthcare professionals. The information on medicines contained in this section is not a guide for self-diagnosis and / or treatment. LLC SA Pro-Pharma is not responsible for possible negative consequences arising from the independent use of information from this section. Using the information from this section, you do it yourself, understanding that: self-medication can be harmful to your health, you must read the instructions and consult a doctor before using medicines.