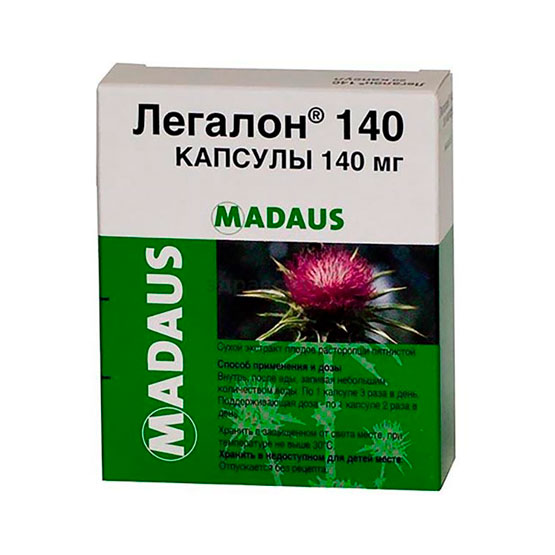 OTC
Legalon 140
Legalon 140
Legalon 140 – capsules related to hepatoprotectors, which are recommended for toxic lesions for the supportive treatment of patients with chronic inflammatory liver diseases or cirrhosis. Read more about the features of the reception, the interaction with other drugs, read the instructions.
Information
Indications for use (instruction): Legalon 140
Toxic liver damage for the supportive treatment of patients with chronic inflammatory liver disease or cirrhosis.
How to use
Adults and children over 12 years of age take 1 capsule 3 times a day. Capsules should be swallowed whole, without chewing, with a sufficient amount of liquid. The course of treatment is determined by the doctor individually, depending on the nature and course of the disease.
Children. There is not enough data regarding the use of this drug in children, so it should not be used in children under 12 years of age.
Contraindications
Hypersensitivity to the fruits of milk thistle, other components of the drug or to any of the excipients; acute poisoning of various etiologies.
Composition
Active ingredient: dry extract from the fruits of milk thistle (Silybum marianum);
1 capsule contains 173–186.7 mg of dry extract from the fruits of Milk Thistle (Silybum marianum) [36-44:1], corresponding to 140 mg of silymarin (DNPH), or 108.2 mg of silymarin (TOP/DAB) in terms of silibinin (solvent is ethyl acetate).
Excipients: microcrystalline cellulose, corn starch, sodium starch (type A), sodium lauryl sulfate, magnesium stearate, red iron oxide E172, black iron oxide E172, titanium dioxide E171, gelatin.
Release form
Packaging. 10 capsules in a blister, 2 or 3, or 6 blisters in a cardboard box.
Dosage form. Capsules
Basic physico-chemical properties: size 1 hard gelatin capsule. Brown lid without marking, brown body without marking. The contents of the capsule is a uniform, compressed powder of brownish-yellow color.
Storage conditions
Store at a temperature not exceeding 30 °C out of the reach of children.
Manufacturer
MADAUS GmbH, Lutticher Strasse 5, 53842 Troisdorf, Germany.
Registration certificate
No. 1449 dated 08/03/2018.
Registration Certificate No. UA/7185/01/01.
Advertising of the drug. Be sure to consult your doctor and read the package leaflet before using this medicine.

This section of the site contains information about medicines, their properties, methods of use, as well as other specialized information that is intended for healthcare professionals. The information on medicines contained in this section is not a guide for self-diagnosis and / or treatment. LLC SA Pro-Pharma is not responsible for possible negative consequences arising from the independent use of information from this section. Using the information from this section, you do it yourself, understanding that: self-medication can be harmful to your health, you must read the instructions and consult a doctor before using medicines.