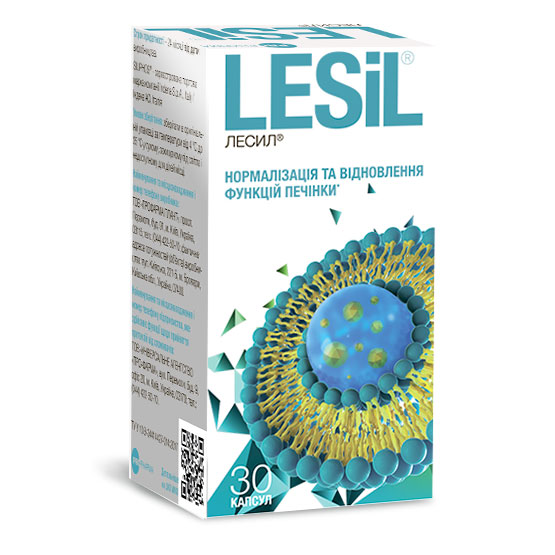 Dietary supplements
Lesil
Lesil
Lesil is recommended for the purpose of normalization of a functional condition of a liver, increase of its resistance to negative factors of environment, including at risk of development of defeats of a liver as a result of action of toxic substances. It is recommended at chronic inflammatory processes. Herbal derived active ingredients.
Information
Indications for use (instruction): Lesil
It is recommended for the purpose of normalizing the functional state of the hepatobiliary system: increasing the liver's resistance to the action of negative environmental factors, restoring the liver parenchyma and its physiological functions, including at the risk of developing liver damage as a result of the action of toxic substances (in particular, alcohol, toxic elements, drugs and others), chronic inflammatory diseases and cirrhosis of the liver, after suffering infectious and toxic hepatitis. It is not a drug.
How to use
Use for adults and children over 12 years old and older, 1-2 capsules 1-2 times a day. Capsules are taken after meals without chewing, drinking plenty of drinking water. The recommended course of use is 3 months. Before use, it is recommended to consult a doctor.
Contraindications
Individual sensitivity to the components, acute poisoning of various etiologies, the period of pregnancy and lactation.
Composition
1 capsule contains: active ingredients: patented milk thistle derivative (Silybum marianum) SILIPHOS® (silibinin – (42.77 – 52.27) mg, soybean phospholipids – up to 86.4 mg, including phosphatidylcholine – up to 25.92 mg) – 144 mg.
Release form
30 capsules per pack
Manufacturer
LLC "PROPHARMA PLANT", Ukraine.
Sanitary and hygienic conclusion
No. 602-123-20-2/28569
Advertising dietary supplements. Not a medicine.