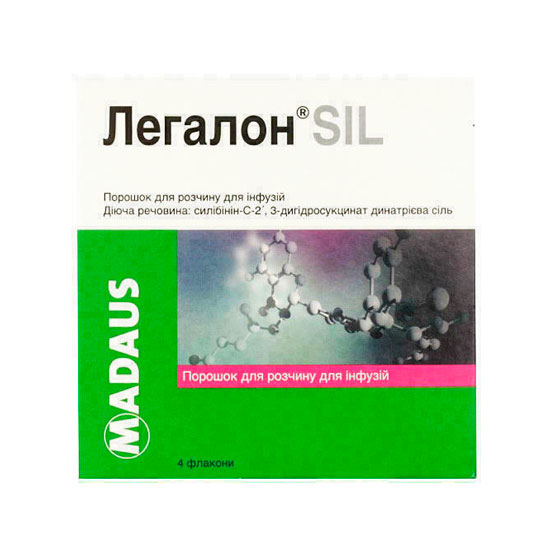 RX
Legalon Sil
Legalon Sil
Legalon Sil is a solution for infusion, which belongs to the class of antidotes. Recommended for poisonous poisonous grebe. The composition of the components is characterized by an antitoxic mechanism of action. At the same time, Silalon Legal does not affect biliary elimination. Read more about the drug, the features of the reception, interaction with other drugs in the instructions.
Information
Indications for use (instruction): Legalon Sil
Pale grebe poisoning.
How to use
The recommended daily dose is 20 mg of silibinin per 1 kg of body weight, which is administered by 4 infusions lasting 2 hours each, taking into account the fluid balance of the body. Accordingly, for 1 infusion, 5 mg of silibinin per 1 kg of body weight is used.
If the patient's body weight is 70 kg, the contents of 1 vial (approximately 350 mg of silibinin) is required for 1 infusion. Therefore, infusions should be repeated at 4-hour intervals so that 4 infusions are given every 24 hours.
The drug is used as an intravenous infusion.
Dissolve the contents of 1 vial in 35 ml of infusion solution (5% glucose solution or 0.9% sodium chloride solution) (1 ml of approximately 10 mg of silibinin) and add to the infusion solution.
The use of the drug should be started as soon as possible after poisoning, even if the final diagnosis of mushroom poisoning is still not precisely established.
The infusion should be carried out for several days until the signs of intoxication disappear.
Children. No data available.
Contraindications
Hypersensitivity to the active or auxiliary substance of the drug.
Composition
Active ingredient: silibinin-C-2', 3-dihydrosuccinate disodium salt;
1 vial contains 528.5 mg of silibinin-C-2', 3-dihydrosuccinate of disodium salt, which corresponds to 476 mg of sodium mono-, dihydrosuccinate of sodium salts (TOP), which is equivalent to 350 mg (315 mg TOP) of silibinin.
Excipients: inulin.
Release form
Packaging. 50 ml brown glass vials with a rubber stopper for lyophilisate and an aluminum flange with a removable disk containing 598.5 mg of powder for the preparation of a solution for infusion. 4 bottles in a cardboard box.
Storage conditions
Store at a temperature not exceeding 25 °C out of the reach of children.
The ready-to-use solution is stable for 6 hours at a temperature of 30 °C and 24 hours at a temperature of 2–8 °C. From a microbiological point of view, the ready-to-use solution should be used immediately, the user is responsible for the duration and storage conditions.
Manufacturer
MADAUS GmbH, Lutticher Strasse 5, 53842 Troisdorf, Germany.
Registration certificate
No1270 dated 07/06/2018.
Registration Certificate No. UA/6747/01/01.
Information on medicines is intended exclusively for doctors.