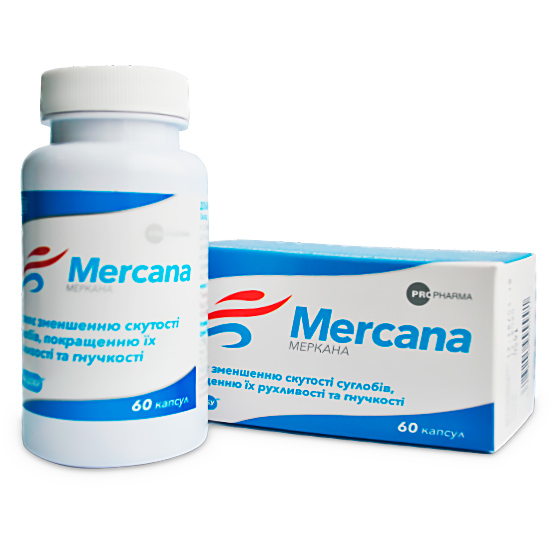 Vitamins and minerals
Mercana
Mercana
Dietary supplement Mercana belongs to the class of hondoprotectors, normalizes the condition of the joints, supports their flexibility and mobility. Components of the composition eliminate discomfort, restore cartilage tissue, fight with a crunch and "creak" when walking. Mercana is recommended for people who are engaged in heavy physical labor, athletes and those whose activities are associated with prolonged staying on their feet.
Information
Indications for use (instruction)
Mercana is recommended as a dietary supplement to the diet as an additional source of undenatured collagen (natural) type II (UC-II ™) in order to normalize the functional state of the joints, in particular, during physical exertion.
How to use
To use adults 1 capsule 1 time per day on an empty stomach before bedtime with a glass of drinking water. Before using recommended medical consultation. The recommended duration of use is 2–6 months. A second course is possible on the recommendation of a doctor.
Contraindications
Individual sensitivity to any of the components, pregnancy and lactation.
Composition
1 capsule contains: active ingredient: patented cartilage collagen undenatured (natural) type II (UC-II ™) – 40.0 mg (mg); excipients: filler: microcrystalline cellulose, anti-baking agents: calcium phosphate, amorphous silicon dioxide, magnesium stearate; capsule shell: gelatin, dye: titanium dioxide.
Release form
60 capsules per pack
Manufacturer
Name and location of the active ingredient supplier: InterHealth Nutraceuticals Incorporated (a Lonza entity).
Name and location and phone number of the manufacturer: Laboratorios VirensS.L., Spain, Industria 48-B Poligono Industrial Nord-Est 08740 Sant Andreu de la Barca, Barсelona., phone: +34-936828972
Sanitary and hygienic conclusion
Scientific expert assessment number 110 of 11/15/2018.
Warnings
Do not exceed the recommended daily dose. Mercana should not be used as a replacement for a full-fledged diet.