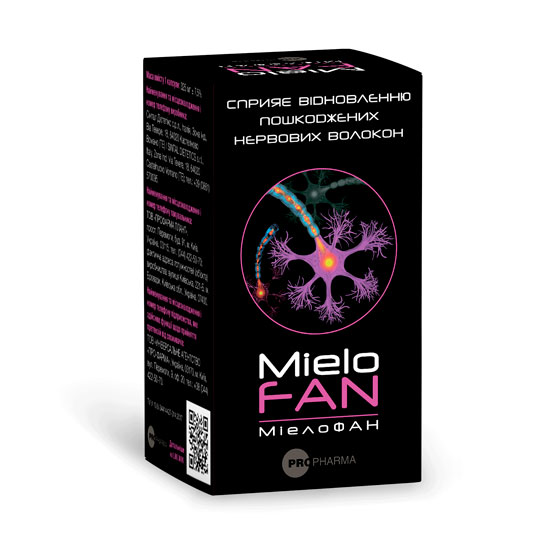 Dietary supplements
MieloFAN
MieloFAN
Complex "MieloFAN" is recommended for use in order to restore nerve fibers, their sensitivity and function. Pyrimidine nucleotides and B vitamins help restore the myelin sheath of the nerve fiber and accelerate the conduction of nerve impulses. MyeloFAN is recommended for polyneuropathy, neuritis and neuralgia.
Information
Indications for use (instruction): MieloFAN
MielofAN is recommended as a dietary supplement to the diet as an additional source of vitamins (B12, folate) and nucleotides, fs in order to normalize the functional state of the nervous system. It contributes to the restoration of damaged nerve fibers and peripheral nerves, in particular if the body has an increased need for pyrimidine nucleotides with sciatica, radiculitis, diabetic and alcoholic polyneuropathy, intercostal neuralgia, facial and trigeminal neuritis, regeneration of axons of the nervous tissue to normalize the metabolism of neurons. It is not a drug.
How to use
Adults take 1 capsule 1 time per day with meals, drink plenty of drinking water. Usually the course is at least 2-3 months. Before use, you must consult a doctor who individually determines the duration of the course.
Contraindications
Individual sensitivity to the components of the drug, pregnancy and lactation.
Composition
The active ingredients of the capsule: uridine 5'-monophosphate disodium salt – 50 mg, cytidine 5'-monophosphate – 5 mg, folic acid (folate) – 0.5 mg, vitamin B12 (cyanocobalamin) – 5 μg. Excipients: antisintering agents: silicon amorphous dioxide, magnesium stearate, filler: maltodextrin. Capsule shell: gelatin, dye titanium dioxide.
Release form
30 capsules per pack. In 1 capsule: 250 mg ± 7.5%.
Manufacturer
SINTAL DIETETICS s.r.l., Italy, Zona Ind. Via Tevere, 18 64020 Castelnuovo Vomano (TE) tel.: +39 (0861) 570095.
Sanitary and hygienic conclusion
No74 dated 07/27/2018.
Advertising dietary supplements. Not a medicine.