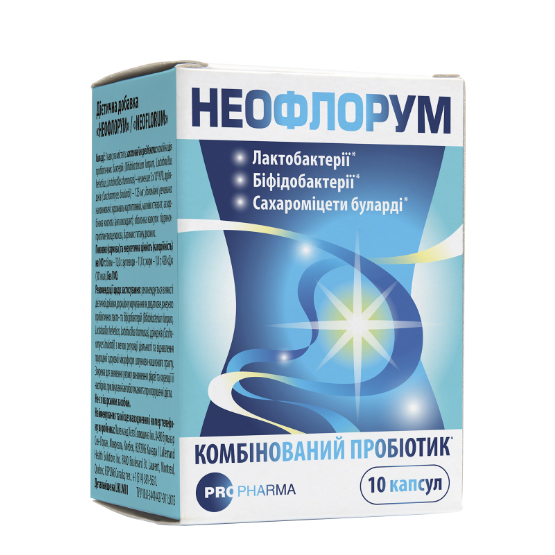 Dietary supplements
Neoflorum 10 pcs
Neoflorum
Canadian probiotic "Neoflorum" helps to eliminate the consequences of dysbiosis. A composition based on lacto- and bifidobacteria and Boulardi saccharomycetes is recommended to normalize the balance of intestinal microflora. The capsule is made using Canadian technology of a three-level protection system. The probiotic components enter the intestines intact, which enhances their effectiveness.
Information
Indications for use (instruction): Neoflorum 10 pcs
Neoflorum recommended as a dietary supplement to the diet as an additional source of probiotic lactobacilli and bifidobacteria (Bifidobacterium longum, Lactobacillus helveticus, Lactobacillus rhamnosus), yeast (Saccharomyces boulardii) for the purpose of regulation of activity and restore the natural microflora of a healthy gastrointestinal tract. With the risk of diarrhea and correction of its consequences, with antibiotic treatment and in violation of the diet.
How to use
Neoflorum should be taken by adults and children from 3 years to take 1-2 capsules per day with meals with drinking water. For persons who cannot swallow a whole capsule, it is necessary to open the capsule and mix its contents with a drink or food at room temperature. For children from 3 to 5 years, immediately before use, dissolve the contents of the capsule in a glass of drinking water at room temperature. Usually the course is 5-7 days and can be continued on the recommendation of a doctor. A doctor's consultation is recommended before use.
To reduce the risk of diarrhea travelers should start taking capsules 5 days before the trip and continue to take throughout the trip.
For maximum effectiveness, the interval between taking the capsules and antibiotics should be 2 hours.
Neoflorum capsules should not be taken with hot drinks or food.
Contraindications
Neoflorum is contraindicated in case of hypersensitivity to the components of the drug (in particular, the immunity of milk and soy), children under 3 years of age.
Composition
1 capsule contains:
active ingredients: a combination of probiotic bacteria (Bifidobacterium longum, Lactobacillus helveticus, Lactobacillus rhamnosus) – at least 5 x 109 CFU, yeast (Saccharomyces boulardii) – 125 mg.
excipients: fillers: potato starch, magnesium stearate ascorbic acid (antioxidant); capsule shell: hydroxy propylmethylcellulose, titanium dioxide dye.
Nutritional (food) and energy value (calorie content): per 100 g: proteins - 12.0 g, carbohydrates - 11.0 g, fats - 1.0 g; 428 kJ (101 kcal).
Without GMO.
Release form
Capsules No. 10, packed in a jar and cardboard box.
Manufacturer
Lallemand Health Solutions (Canada)
Sanitary and hygienic conclusion
№602-123-20-2/8618
Advertising dietary supplements. Not a medicine.