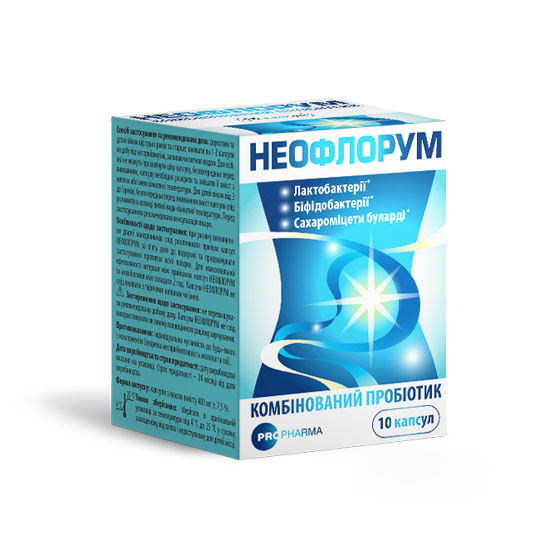 Gastroenterology
Neoflorum 14 pcs
Neoflorum
Probiotic "Neoflorum" is recommended to restore the natural intestinal microflora, in case of diarrhea and to correct its consequences, to prevent the development of dysbiosis. Probiotic is made by a special Canadian technology, which enhances the effectiveness of the remedy due to the fact that the active components enter the intestine intact.
Information
Indications for use (instruction): Neoflorum 14 pcs
Neoflorum recommended as a dietary supplement to the diet as an additional source of probiotic lactobacilli and bifidobacteria (Bifidobacterium longum, Lactobacillus helveticus, Lactobacillus rhamnosus), yeast (Saccharomyces boulardii) for the purpose of regulation of activity and restore the natural microflora of a healthy gastrointestinal tract. With the risk of diarrhea and correction of its consequences, with antibiotic treatment and in violation of the diet, to prevent the development of dysbiosis of various etiologies and reduce their manifestation (diarrhea, constipation, flatulence, bloating, etc.), incl. with SPK and diseases of the stomach and duodenum associated with Helicobacter pylori; to improve the condition of the skin, in particular for skin diseases (allergodermatosis, acne, etc.). It is not a drug.
How to use
Neoflorum should be taken by adults and children from 3 years to take 1-2 capsules per day with meals with drinking water. For persons who cannot swallow a whole capsule, it is necessary to open the capsule and mix its contents with a drink or food at room temperature. For children from 3 to 5 years, immediately before use, dissolve the contents of the capsule in a glass of drinking water at room temperature. Usually the course is 5-7 days and can be continued on the recommendation of a doctor. A doctor's consultation is recommended before use.
To reduce the risk of diarrhea travelers should start taking capsules 5 days before the trip and continue to take throughout the trip.
For maximum effectiveness, the interval between taking the capsules and antibiotics should be 2 hours.
Neoflorum capsules should not be taken with hot drinks or food.
Contraindications
Neoflorum is contraindicated in case of hypersensitivity to the components of the drug (in particular, the immunity of milk and soy), children under 3 years of age.
Composition
1 capsule contains:
active ingredients: a combination of probiotic bacteria (Bifidobacterium longum, Lactobacillus helveticus, Lactobacillus rhamnosus) – at least 5 x 109 CFU, yeast (Saccharomyces boulardii) – 125 mg.
excipients: fillers: potato starch, magnesium stearate ascorbic acid (antioxidant); capsule shell: hydroxy propylmethylcellulose, titanium dioxide dye.
Nutritional (food) and energy value (calorie content): per 100 g: proteins - 12.0 g, carbohydrates - 11.0 g, fats - 1.0 g; 428 kJ (101 kcal).
Without GMO.
Release form
Pack of 14 capsules
Manufacturer
Lallemand Health Solutions (Canada)
Sanitary and hygienic conclusion
№602-123-20-2/8618

This section of the site contains information about medicines, their properties, methods of use, as well as other specialized information that is intended for healthcare professionals. The information on medicines contained in this section is not a guide for self-diagnosis and / or treatment. LLC SA Pro-Pharma is not responsible for possible negative consequences arising from the independent use of information from this section. Using the information from this section, you do it yourself, understanding that: self-medication can be harmful to your health, you must read the instructions and consult a doctor before using medicines.