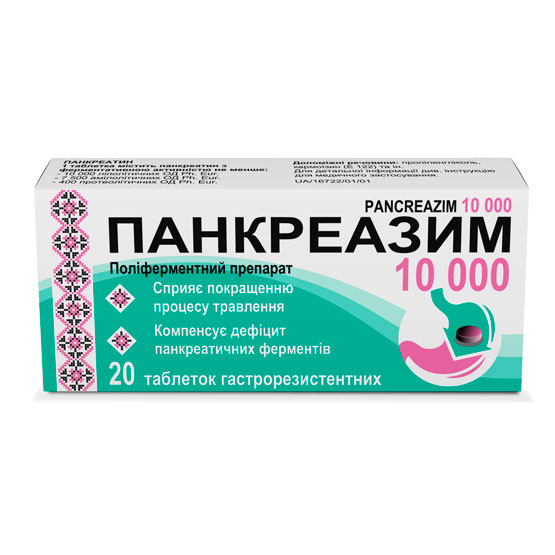 OTC
Pancreazim 10000
Pancreazim 10000
Pancreasim 10000 is recommended to improve digestion. Shown under conditions that are accompanied by a violation of the digestive process due to insufficient secretion of enzymes, intestinal disorders, bloating, preparation for x-ray or ultrasound examinations. Read more about indications and methods of application in the instructions.
Information
Indications for use (instruction): Pancreazim 10000
Diseases accompanied by a violation of the digestion process due to insufficient allocation of digestive enzymes by the pancreas, such as chronic pancreatitis.
Conditions after simultaneous resection of the stomach and small intestine, functional acceleration of the passage of food through the intestines, intestinal upsets, the simultaneous use of highly digestible vegetable, oily and unusual food.
Bloating and preparation for x-ray or ultrasound diagnostic tests.
How to use
The drug dose depends on the deficiency of pancreatic enzymes in the duodenum and is set individually.
If there are no other recommendations, as well as in cases of consuming highly digestible plant foods, fatty or unusual foods, take 1–2 tablets. In the other above cases, when digestive disorders occur, the recommended dose is 2–4 tablets. If necessary, the dose can be increased. Increasing the dose in order to reduce the symptoms of the disease, for example steatorrhea or abdominal pain, should be carried out only under the supervision of a doctor. The daily dose of lipase should not exceed 15 000 – 20 000 PIECES of Ph. Eur. per 1 kg of body weight.
Take the tablets with meals, swallowing whole and drinking plenty of fluids, such as 1 glass of water.
The duration of treatment depends on the course of the disease and is determined by the doctor individually.
The question of the drug dosage and the duration of treatment for children is decided by the doctor.
The drug should be prescribed in the daily dose necessary to normalize bowel movements, but not more than 1,500 PIECES of Ph. Eur. lipases per 1 kg of body weight of a child under 12 years old. For children over 12 years of age, the daily dose of enzymes should not exceed 15,000 - 20,000 PIECES of Ph. Eur. lipases per 1 kg of body weight.
Children.
Use for children over 3 years old.
Contraindications
Hypersensitivity to the active substance and other drug components. Acute pancreatitis, exacerbation of chronic pancreatitis, intestinal obstruction.
Composition
Active substance: pancreatin;
1 gastroresistant tablet contains pancreatin with enzymatic activity of at least 10,000 lipolytic ED Ph. Eur., 7,500 amylolytic ED Ph. Eur., 400 proteolytic ED Ph. Eur.
Excipients: sodium chloride, anhydrous colloidal silicon dioxide, microcrystalline cellulose, crospovidone, croscarmellose sodium, povidone 25, magnesium stearate, methacrylate copolymer dispersion, talc, propylene glycol, titanium dioxide (E 171), carmoisine (E 122).
Release form
10 tablets in a blister. 2 or 5 blisters in a pack of cardboard.
Storage conditions
Store in the original packaging at a temperature not exceeding 25 ºС. Keep out of the reach of children.
Manufacturer
PJSC "Technologist", Ukraine, 20300, Cherkasy region, Uman city, Staraya proreznaya street, 8.
Registration certificate
No 942 dated 05/16/2018
Registration Certificate No. UA / 16722/01/01
Advertising of the drug. Be sure to consult your doctor and read the package leaflet before using this medicine.

This section of the site contains information about medicines, their properties, methods of use, as well as other specialized information that is intended for healthcare professionals. The information on medicines contained in this section is not a guide for self-diagnosis and / or treatment. LLC SA Pro-Pharma is not responsible for possible negative consequences arising from the independent use of information from this section. Using the information from this section, you do it yourself, understanding that: self-medication can be harmful to your health, you must read the instructions and consult a doctor before using medicines.