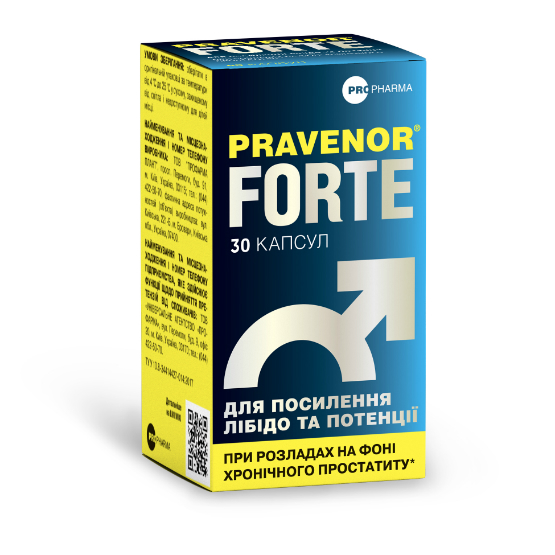 Dietary supplements
Pravenor Forte 30 pcs
Pravenor Forte 30
Pravenor Forte is a dietary supplement to the diet recommended to normalize the functional state of the genitourinary system in men, to enhance libido and potency.
Information
Indications for use (instruction): Pravenor Forte 30 pcs
PRAVENOR® FORTE is recommended as an additional source of biologically active substances (L-arginine, fatty acids, flavonoids, phytosterols, etc.) in order to normalize the functional state of the genitourinary system in men, especially with erectile dysfunction (to enhance libido and potency); with disorders of urination against the background of chronic prostatitis, benign prostatic hyperplasia.
It is not a drug.
How to use
For adults (men), 2 capsules a day, regardless of food intake, with plenty of water. The duration of use is prescribed by the doctor individually. If necessary, the course can be repeated after a break of 1 month. A doctor's consultation is recommended before use.
Contraindications
Individual sensitivity to components. Do not exceed the prescribed daily dose in the instructions. Do not use as a replacement for a full diet.
Composition
1 capsule contains: active ingredients: L-arginine - 425 mg, stinging nettle extract - 100 mg, dwarf palm berry extract - 80 mg, creeping tribulus extract - 40 mg, ginkgo biloba extract - 15 mg, yohimbine hydrochloride - 2.5 mg ; excipients: filler: amorphous silicon dioxide, magnesium stearate; capsule shell: gelatin.
Release form
60 gelatin capsules in a plastic jar and carton box with instructions.
Storage conditions
Store in a dry, dark and out of reach of children at a temperature not higher than 25 ° C. Shelf life - 2 years.
Manufacturer
LLC PROFARMA PLANT, Ukraine.
Sanitary and hygienic conclusion
602-123-20-2 / 14150 dated April 2, 2018.
Attention! Beware of fakes!
Advertising dietary supplements. Not a medicine.