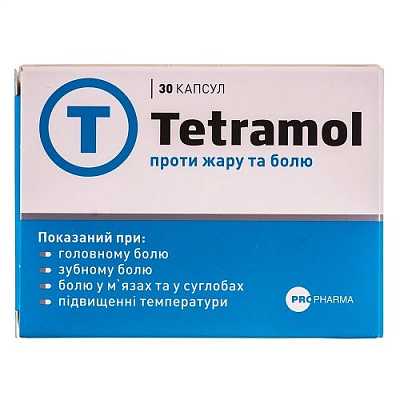 OTC
Tetramol
Tetramol
Combination analgesic, which also has anti-inflammatory and antipyretic properties. Ibuprofen and paracetamol, which are part of Tetramol, help to suppress prostaglandin synthesis, which helps relieve pain and inflammation.
Information
Indications for use (instruction): Tetramol
Pain syndrome of various intensities:
dysmenorrhea and menstrual pain;
headache;
neuralgia;
myalgia
arthralgia
toothache.
Fever (fever with flu and colds).
As part of the comprehensive treatment of postoperative pain, the weakening of the symptoms of rheumatoid arthritis and osteoarthritis.
How to use
Adults and adolescents aged 16 years should take 1-2 capsules 4 times a day, depending on the intensity of the pain and the recommendation of the doctor. The daily dose should not exceed 6 capsules. For children from 12 to 16 years: 1 capsule 1-2 times a day. The capsule should be taken without chewing, drinking enough liquid (a glass of water). Usually the duration of treatment is 3-7 days. If no improvement occurs during this time, treatment should be reviewed.
The maximum period of use for children without medical advice is 3 days.
The interval between receptions is at least 4 hours.
Do not exceed the recommended dose.
Contraindications
Hypersensitivity to paracetamol, ibuprofen, caffeine or any other component of the drug, peptic ulcer, including anamnesis (two or more clear episodes of exacerbation of peptic ulcer or bleeding); upper gastrointestinal bleeding or a history of perforation associated with prior treatment with non-steroidal anti-inflammatory drugs (NSAIDs); acute pancreatitis, severe liver and / or renal dysfunction, congenital hyperbilirubinemia, glucose-6-phosphate dehydrogenase deficiency, alcoholism, blood disease, severe anemia, leukopenia, thrombosis, thrombophlebitis, conditions; sleep disorders; severe hypertension; organic diseases of the cardiovascular system; angle-closure glaucoma; epilepsy, hyperthyroidism, decompensated heart failure, impaired cardiac conduction, severe atherosclerosis, susceptibility to vascular spasm, coronary artery disease, hypertrophy of the prostate gland, severe forms of diabetes mellitus, allergic reaction, eg or other NSAIDs, the use of the drug at the same time as NSAIDs, the elderly patient.
Not to be used with monoamine oxidase (MAO) inhibitors, cyclooxygenase-2 and for 2 weeks after discontinuation; contraindicated in patients taking tricyclic antidepressants or beta-blockers. Gilbert's syndrome. Age under 12 years.
Composition
Active substances: paracetamol, ibuprofen, caffeine;
1 capsule contains paracetamol 325 mg, ibuprofen 200 mg, caffeine 30 mg
Excipients: talc, colloidal silicon dioxide, sodium lauryl sulfate, gelatin, kandurin (titanium dioxide (E 171), potassium aluminosilicate (E 555)).
Release form
Capsules
Basic physical and chemical properties. Hard gelatin capsules. The capsule body and lid are white mother-of-pearl. The contents of the capsule is a mixture of crystalline and amorphous white powder. Lumps are allowed.
Storage conditions
Store in the original packaging at a temperature not exceeding 25 °C out of the reach of children.
Manufacturer
JSС «Grindeks», Latvia
Registration certificate
№1194 dated 05/29/2019
Advertising of the drug. Be sure to consult your doctor and read the package leaflet before using this medicine.

This section of the site contains information about medicines, their properties, methods of use, as well as other specialized information that is intended for healthcare professionals. The information on medicines contained in this section is not a guide for self-diagnosis and / or treatment. LLC SA Pro-Pharma is not responsible for possible negative consequences arising from the independent use of information from this section. Using the information from this section, you do it yourself, understanding that: self-medication can be harmful to your health, you must read the instructions and consult a doctor before using medicines.