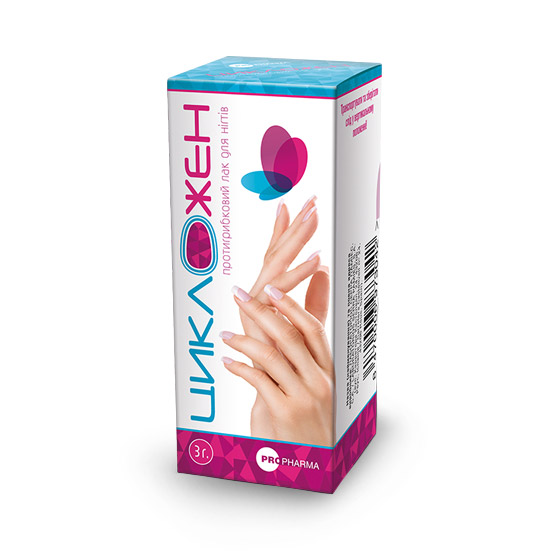 Dermatology
Tsiklozhen
Tsiklozhen
Lacquer "Tsiklozhen" is an excellent choice for the treatment and prevention of nail fungus. The components of the composition penetrate deeply directly into the nail plate and work localized at the site of infection. The nail polish is easy to use, dries quickly and is not visible on the nails. It has an antibacterial effect.
Information
Indications for use (instruction)
Tsiklozhen is recommended for fungal diseases of the nails (onychomycosis).
The active substance ciclopirox penetrates directly into the nail plate, where it has antifungal effects on the most common causative agents of fungal infections of the nails.
The antifungal effect of ciclopirox is based on the inhibition of the entry into the cell and the induction of the withdrawal from the cell of the components necessary for its vital activity.
It has antibacterial action against gram-positive and gram-negative pathogens.
How to use
For the treatment of nail fungus, a thin layer of antifungal varnish Cyclopen is applied on the affected nails every other day during the first month. This ensures the saturation of the nail with the active substance.
In the second month of application, the frequency of application should be reduced to two times a week.
From the third month - apply varnish once a week.
Before use, remove as much as possible of the tissue of the affected nail with scissors or special nail files. Clean the surface of the nails with an alcohol swab. Apply Cyclosed evenly over the entire surface of the affected nail. Immediately after applying the lacquer, clean the bone with a spirit swab so that it can be used again. Close the bottle tightly so that the varnish does not dry. The duration of treatment depends on the degree of infection, but should not exceed 6 months without consulting a doctor.
Contraindications
Individual intolerance to any of the components, pregnancy and lactation. It is not recommended to use decorative varnishes on nails treated with Cyclogen. Avoid contact with eyes and mucous membranes.
Composition
1 g of nail polish contains: active ingredient: ciclopirox – 80 mg.
Release form
Bottle, 3 grams.
Manufacturer
LABORATORIOS SERRA PAMIES, S.A. Reus, Spain
Sanitary and hygienic conclusion
№05.03.02-03 / 13502 dated 04.19.2016