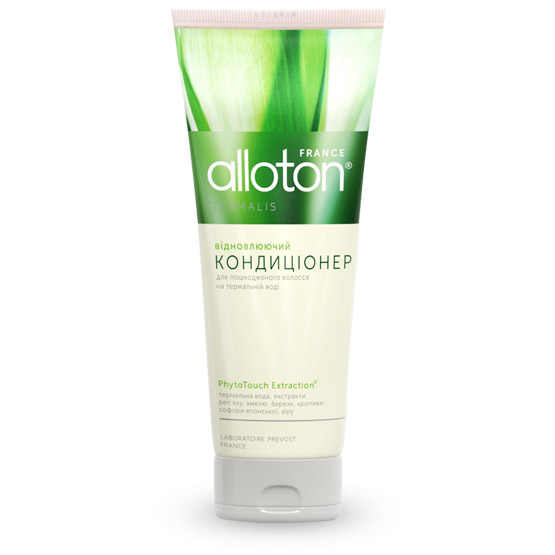 Cosmeceuticals
Alloton Conditioner
Alloton Conditioner
Conditioner Alloton® has a beneficial effect on the condition of hair, strengthening it from root to tip. The conditioner helps to maintain the connection between the scales, protect hair from damage. Plant extracts have a strengthening effect on the hair, restoring softness, strength and shine to the curls.
Information
Indications for use (instruction): Alloton Conditioner
It is recommended for hair loss of any etiology, weakened and damaged hair. Can be used for daily care.
How to use
Spread a small amount of conditioner over the entire length of hair washed with ALLOTON® Thermalis shampoo, leave for 2-3 minutes and rinse thoroughly. Suitable for daily use.
Contraindications
Hypersensitivity to the components of the tool.
Composition
Thermal water, cetearyl, , burdock root extract, birch twig extract, hops extract, nettle root extract, d-limonene, wheat protein hydrolyzate, maltodextrin, hydrolyzed collagen, heck Seals Cinnamon, Geraniol, Citric Acid, Japanese Sophora Kidney Extract, Aloe Vera Leaf Juice, Sodium Hydroxide, Citronelol, Calamus Root Extract, Linalool, Sodium Benzoate, Butyl Hydroxy Toluene.
Release form
Bottle, 200 ml.
Manufacturer
Laboratoire Prevost, France
Sanitary and hygienic conclusion
5.03.02-03 / 37543