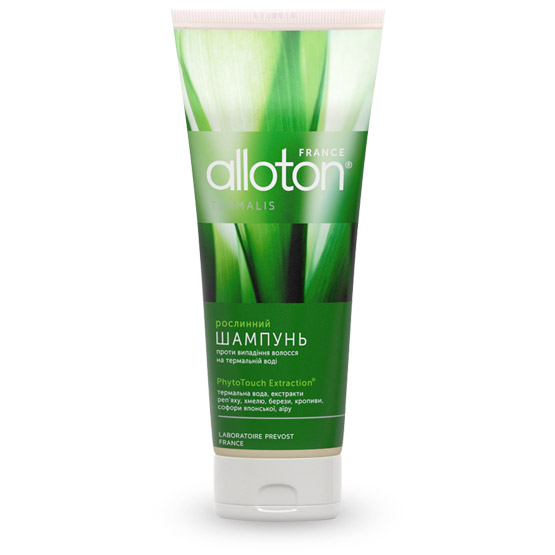 Cosmeceuticals
Alloton Shampoo
Alloton Shampoo
Alloton® thermal shampoo prevents hair loss. The benefits of thermal water are its ability to effectively deliver active ingredients to the follicle. After applying the shampoo, the hair becomes radiant, protected from damage. Plant extracts in the composition strengthen the curls, returning them softness, strength and brilliance, but most importantly – prevent hair loss and improve microcirculation around the hair follicle.
Information
Indications for use (instruction)
Recommended for hair loss of any etiology, weakened and damaged hair. Can be used for daily care.
How to use
Apply to wet hair, gently massage until foaming. Wash off with water. It is recommended to use in a complex with air conditioning Alloton Thermalis. Suitable for daily care. To strengthen weak hair and prevent hair loss, use in combination with Alloton phytospray is recommended.
Contraindications
Hypersensitivity to any component of the drug.
Composition
Thermal water, sodium 2- (2-dodecyloxyethoxy) ethyl sulphate, cocamido propyl betaine, cocamide DEA, sodium chloride, glycerin, benzyl alcohol, palm tree seed oil, perfume, PEG-12 dimethicone, citral, guar hydropropyl trimonium chloride, sodium tris, nitrile, sodium acetate, sodium acetate, sodium dimethicone, citral, guar hydropropyltrimonium chloride, sodium tris, nitrile, etc. d-limonene, amodimethicone, burdock root extract, birch twig extract, hop extract, nettle root extract, hexyl cinnamon, geraniol, maltodextrin, citric acid, citronellol, Japanese Sophora extract, calamus root extract, tridecet-12, cyclo tetrasiloxane, sodium hydroxide, butylhydroxytoluene, methylchloroisotialysolinone, methylisothiazolinone.
Release form
Bottle of 200 ml
Manufacturer
Laboratoire Prevost, France
Sanitary and hygienic conclusion
5.03.02-03 / 37543