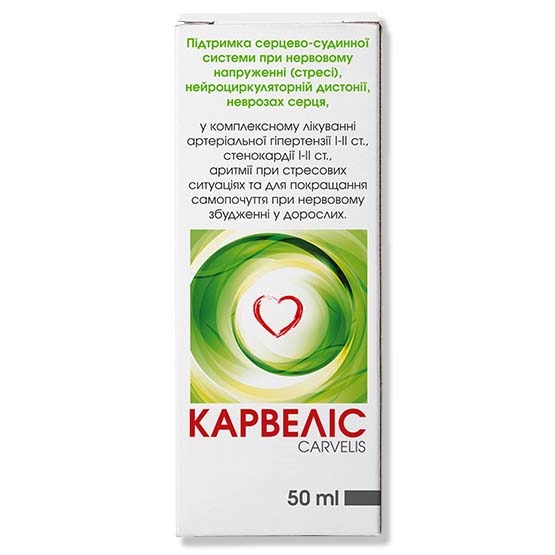 OTC
Carvelis Drops
Carvelis Drops
Drops Karvelis is a sedative that is not addictive. Recommended to normalize the work of the cardiovascular system, facilitate falling asleep, relieve irritability and tension in stressful situations.
Information
Indications for use (instruction): Carvelis Drops
It is used to maintain the cardiovascular system in case of nervous tension (stress), neurocirculatory dystonia, heart neuroses, in the complex treatment of I-II degree arterial hypertension, arrhythmias in stressful situations and to improve well-being with nervous excitement in adults.
How to use
Adults should take 30 drops (1.2 ml) of Carvelis 3 times a day, after dissolving the drops in a small amount of liquid.
If the symptoms of the disease do not disappear within 2 weeks, or if side reactions not specified in the instructions appear, you should consult a doctor.
Children.
The safety and efficacy of the drug in children (under the age of 18) have not been established, therefore Carvelis is not used in patients of this age group.
Contraindications
Hypersensitivity to the components of the drug. Depression and other disorders accompanied by depression of the central nervous system. Severe arterial hypotension and bradycardia.
Warnings
If symptoms persist and / or leg swelling appears, or symptoms of unknown origin occur, you should consult a doctor. If you have pain in your heart that may spread to your arms, epigastric region, or neck, or if you experience shortness of breath, see your doctor immediately.
The drug Karvelis contains sucrose. If you are intolerant of certain types of sugars, you should consult your doctor before taking the drug.
During the period of use of the drug, one should refrain from drinking alcoholic beverages.
Composition
Active ingredients: 10 ml of the preparation contain: extract from a mixture of leaves, flowers and fruits of hawthorn (Crataegi folii cum flore, fructus extractum) (1:1.6-2.2), extractant: ethanol 50% (v/v) - 7.125 ml; motherwort herb extract (Leonuri herbae extractum) (1:1.7-2.2), extractant: ethanol 40% (v/v) - 1.0 ml; extract of lemon balm leaves (Melissae herbae extractum) (1:1.6-2.1), extractant: ethanol 60% (v/v) - 1.0 ml; valerian root extract (Valerianae radix extractum) (1:1.6-2.1), extractant: ethanol 60% (v/v) - 0.5 ml;
excipients: sucrose, purified water.
Release form
Packaging. 30 ml, 50 ml or 100 ml in a bottle, 1 bottle in a cardboard box.
Manufacturer
Dr. Gustav Klein GmbH & Co. KG. Steinenfeld 3, 77736 Zell am Harmersbach, Germany.
Registration certificate
№ UA 13314/01/01
Advertising of the drug. Be sure to consult your doctor and read the package leaflet before using this medicine.

This section of the site contains information about medicines, their properties, methods of use, as well as other specialized information that is intended for healthcare professionals. The information on medicines contained in this section is not a guide for self-diagnosis and / or treatment. LLC SA Pro-Pharma is not responsible for possible negative consequences arising from the independent use of information from this section. Using the information from this section, you do it yourself, understanding that: self-medication can be harmful to your health, you must read the instructions and consult a doctor before using medicines.