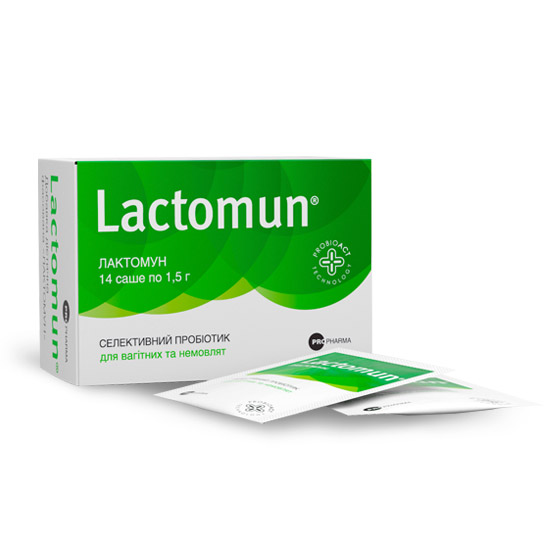 Dietary supplements
Lactomun
Lactomun
Probiotic "Lactomun" is recommended for pregnant women with allergies, if the child's father has a history of allergies, as well as for children from the first days of life. The drug is recommended for adults and children with intestinal dysbiosis, to maintain immunity in lactose intolerance.
Information
Indications for use (instruction): Lactomun
Pregnant women with allergic diseases and in the case when the father of the unborn child has a history of allergic diseases;
Adults and children from the first days of life who have allergic diseases;
Adults and children with intestinal dysbiosis;
For children to maintain immunity and with lactose deficiency;
Pregnant women who live in unfavorable environmental conditions, with a violation of the diet, the presence of chronic diseases, during antibiotic therapy, with functional disorders of digestion (including constipation);
Premature babies;
Infants who are bottle-fed and born by caesarean section.
How to use
Take for children from birth to 1 year old at 1.5 g/day, for adults and children over 1 year old at 1.5-3 g/day. Dissolve the contents of the sachet in 10-50 ml of boiled drinking water or milk at room temperature, mix thoroughly until a homogeneous suspension is created, leave for 10 minutes. The course is individual, determined by the doctor. If necessary, repeat the reception. It is recommended to consult a doctor before use. It is advisable to consume with meals.
Contraindications
Individual sensitivity to components.
Composition
Active components: Bifidobacterium bifidum, Bifidobacterium lactis, Lactococcus lactis – not less than 1.0x109 CFU/g.
Release form
Powder for oral suspension in sachet №14.
Manufacturer
Winclove Bio Industries B.V., Hulstweg 11, 1032 LB Amsterdam, The Netherlands.
Sanitary and hygienic conclusion
№05.03.02-03/14359
Advertising dietary supplements. Not a medicine.