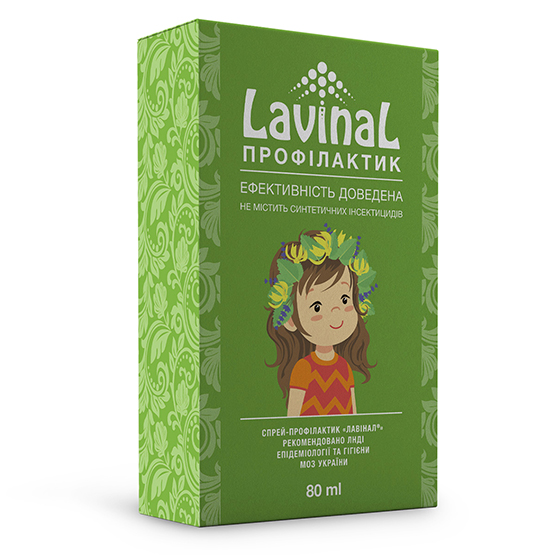 Medical devices
Lavinal-Prevention
Lavinal-Profilaktik
Spray for protection against lice "Lavinal-Prevention" is aimed at scaring off parasites. Herbal composition does not harm the skin and hair of the child, provided that he is not allergic to the components (therefore it is advisable to carry out an allergy test before use). One bottle provides up to 80 days of protection. Spray allows you to evenly distribute the tool for all hair. Suitable for adults and children from 2 years.
Information
Indications for use (instruction): Lavinal-Prevention
Recommended for the prevention of pediculosis (individual protection against head lice) for adults and children from 2 years old – in the family, school, kindergarten, rest camp, in public transport, other crowded places.
How to use
Spray is applied on dry hair before going to places of possible contact with unfamiliar people. No shampooing after the procedure.
Depending on weather conditions – temperature, humidity, etc. – scaring effect lasts for 4-8 hours. If necessary, the procedure can be repeated.
Contraindications
Individual intolerance to any of the components. Not recommended for children under 2 years old. Skin damage (severe scratches, wounds, irritation on the areas of the body affected by head lice).
Composition
Essential oils of clove, lemon, ylang-ylang, hydroalcoholic extract of mint, preservative.
Release form
Bottle, 80 ml.
Manufacturer
PE Charlie, Ukraine
Sanitary and hygienic conclusion
Technical Specifications TU U 20.5-34414427-017: 2018 Conclusion of HSEEA No. 602-123-20-1 / 18519 of 04/26/2018
Advertising of a medical device. Not a medicine. Before using a medical device be sure to consult a doctor.

This section of the site contains information about medicines, their properties, methods of use, as well as other specialized information that is intended for healthcare professionals. The information on medicines contained in this section is not a guide for self-diagnosis and / or treatment. LLC SA Pro-Pharma is not responsible for possible negative consequences arising from the independent use of information from this section. Using the information from this section, you do it yourself, understanding that: self-medication can be harmful to your health, you must read the instructions and consult a doctor before using medicines.