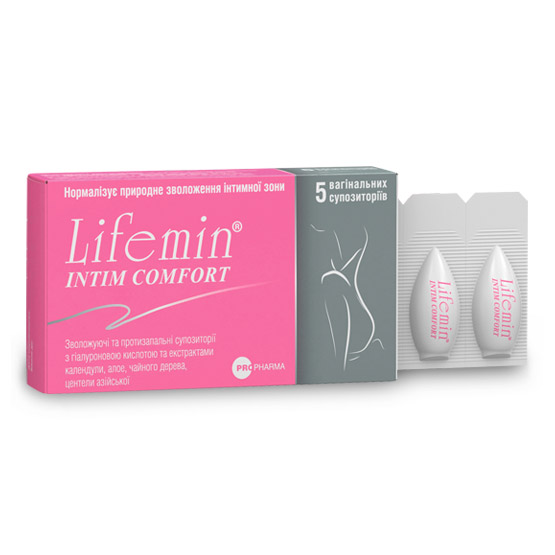 Preventive and hygienic means
Lifemin Intim Comfort
Lifemin Intim Comfort
Суппозитории Лайфемин Интим Комфорт - это комбинация растительных компонентов, которые способствуют восстановлению слизистой влагалища и нормализации естественного увлажнения интимной зоны женщины.
Гиалуроновая кислота уменьшает раздражение и покраснение. Ее действие направлено на укрепление стенок влагалища, создание защитного барьера, увлажнение при сухости. Экстракт календулы ускоряет процесс восстановления тканей. Экстракт алоэ способствует восстановлению обмена веществ в тканях, витамин С обеспечивает оптимальный показатель pH слизистой и поддерживает нормальный состав микрофлоры.
Information
Indications for use (instruction): Lifemin Intim Comfort
Suppositories Laifemin® Intim Comfort is recommended to be used as a support agent for dry vaginal mucosa in menopausal women to maintain vaginal moisture. With uncomfortable conditions, which are characterized by inflammatory processes and dryness. For preventive purposes:
with prolonged use of corticosteroids, antibiotics;
after visiting the pool, sauna or bathing in water, with a physiological tendency to inflammatory reactions in cases of trauma to the vaginal mucosa;
with a prolonged lack of ability to perform hygiene procedures (trips, trips) to restore the mucous membrane;
with inflammatory conditions of the vagina (bacterial vaginosis, nonspecific colpitis);
with atrophic and dystrophic colpitis;
with erosion of the cervix;
after childbirth;
after using aggressive treatment methods (diathermocoagulation, laser therapy and cryotherapy of the cervix or vagina, abortion, the introduction of foreign objects);
after vaginal operations due to prolapse of the walls of the vagina, neck and body of the uterus, pelvic floor insolvency;
for more comfortable intercourse.
How to use
Apply once a day (in the evening). The vaginal suppository should be inserted deep into the vagina, in the supine position, slightly bending the legs. If the suppository is too soft to enter, it should be cooled in the refrigerator for several minutes or under a stream of cold water, without removing it from the blister. The duration of use is individual, preferably at least 5 days. Wash hands before and after using suppository.
Contraindications
Hypersensitivity (allergy) to any component.
Composition
1 vaginal suppository contains: active ingredients: hyaluronic acid (in the form of sodium hyaluronate) – 5 mg, calendula extract (fat-soluble) – 60 mg, aloe extract (fat-soluble) – 60 mg, tea tree oil (melaleuka) extract – 2 mg, extract Asian Centella oil – 20 mg; excipients: butylhydroxytoluod, suppository mass A (semi-synthetic glycerides), propyl paraben, isobutyl paraben, butyl paraben.
Release form
Vaginal suppositories. 5 suppositories in a blister pack.
Storage conditions
Store in the original packaging out of the reach of children at a temperature not exceeding 25°C.
Manufacturer
HELP S.A. 10 Valaoritou str, GR 144 52 Metamorphosis, Greece.
Sanitary and hygienic conclusion
No. 05.03.02-03/51357 dated 11/19/2015.
Warnings
Do not swallow. Avoid contact with eyes.