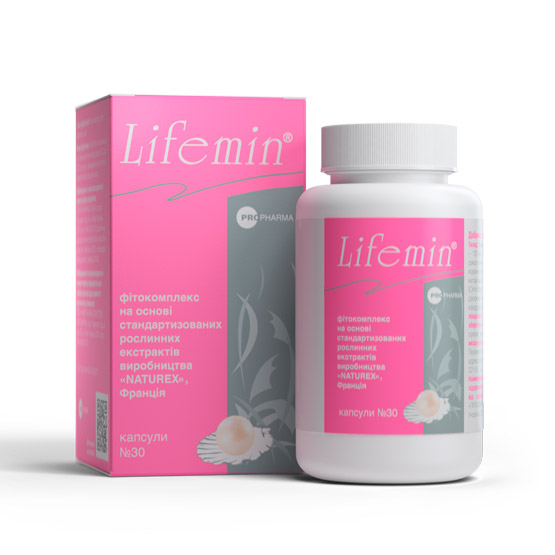 Dietary supplements
Lifemin
Lifemin
LifeFemin® is a dietary supplement that works to reduce the symptoms of menopause. It also helps prevent osteoporosis, which can develop during menopause. In addition, the remedy reduces irritability, improves the emotional state of a woman and normalizes sleep.
Information
Indications for use (instruction): Lifemin
Lifemin® is recommended for use as an additional source of natural estrogen-progestogenic hormone-like compounds, such as isoflavones (daidzein, daidzin, and puerarin), isoprenyl flavonoids (8-isoprenylnaringenin, 6-isoprenylnaringenin, xanthohumol, isoxanthogumydium) saponins (diosgenin, β-sitosterol), bitterness, polyphenolic compounds, organic acids, essential oils, as well as a macroelement calcium in order to reduce the manifestations of climacteric syndrome (hot flashes, irritability, mood swings, depressions, night sweats, sleep disturbances, irritation, etc.) dryness of the external genital organs, a decrease in the manifestations of artificial menopause caused by taking medications or is a consequence of surgery), with the threat of the development of menopausal osteoporosis.
How to use
Adults (women) take 1 capsule daily. The course of application is determined individually. A doctor's consultation is recommended before use.
It is not a drug.
Do not exceed the recommended daily dose. Should not be used as a substitute for a nutritious diet.
Contraindications
Individual sensitivity to any of the components, pregnancy or breastfeeding period, estrogen-dependent malignant neoplasms.
Composition
1 capsule contains:
Active ingredients: Humulus extract (Humulus lupulus) – 120 mg (including the patented Lifenol® extract – 20 mg), Dioscorea villosa root extract – 70 mg, Pearl powder – 60 mg, Powdery root extract extractor (Pueraria lobata) – 50 mg; Chinese root extract extract (Angelica sinensis) – 50 mg; Cimicifuga raisin extract (Cimicifuga racemosa) – 30 mg.
Auxiliary substances: fillers: microcrystalline cellulose, calcium phosphate, silicon dioxide amorphous; capsule shell: gelatin, dye: Titanium dioxide, special red.
Release form
Packaging, 30 capcules.
Manufacturer
LLC PROFARMA PLANT, Ukraine
Sanitary and hygienic conclusion
No. 602-123-20-2 / 37432 dated 08/31/2018.
Advertising dietary supplements. Not a medicine.