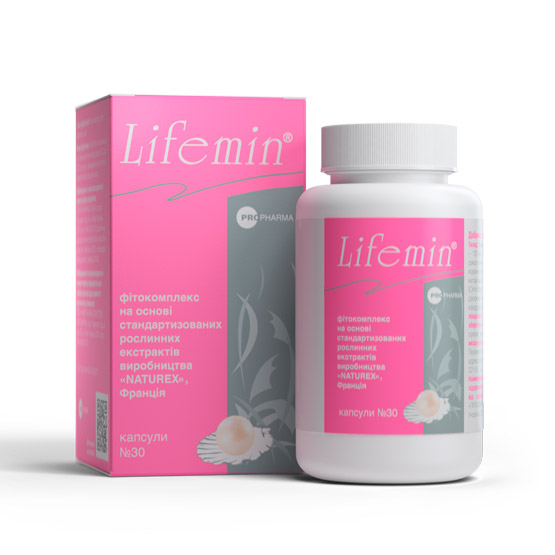 Gynecology
Lifemin
Lifemin
Lifemin® is a phytocomplex whose action is aimed at restoring the natural level of estrogen and reducing such menopause symptoms: hot flashes, excessive sweating, irritability. Also, the phytocomplex contributes to the prevention of osteoporosis, which can develop during menopause. In addition, the tool reduces irritability, improves the emotional state of women and normalizes sleep. The composition includes components of natural origin only. They do not have side effects that are inherent in hormone-based drugs.
Information
Indications for use (instruction)
To reduce or eliminate the symptoms of climax (tides, high sweating, irritability, sleep disorders).
Reduced manifestations of artificial menopause caused by drug administration or are the result of surgical intervention.
For prophylaxis of menopausal osteoporosis.
In order to normalize excess body weight in women.
How to use
Adults (women) 1 capsule per day. The course of application is determined individually.
Contraindications
Individual sensitivity to any of the components, pregnancy or breastfeeding period, estrogen-dependent malignant neoplasms.
Composition
1 capsule contains:
Active ingredients: Humulus extract (Humulus lupulus) – 120 mg (including the patented Lifenol® extract – 20 mg), Dioscorea villosa root extract – 70 mg, Pearl powder – 60 mg, Powdery root extract extractor (Pueraria lobata) – 50 mg; Chinese root extract extract (Angelica sinensis) – 50 mg; Cimicifuga raisin extract (Cimicifuga racemosa) – 30 mg.
Auxiliary substances: fillers: microcrystalline cellulose, calcium phosphate, silicon dioxide amorphous; capsule shell: gelatin, dye: Titanium dioxide, special red.
Release form
Packaging, 30 capcules.
Manufacturer
LLC PROFARMA PLANT, Ukraine
Sanitary and hygienic conclusion
No. 05.03.02-04 / 34305