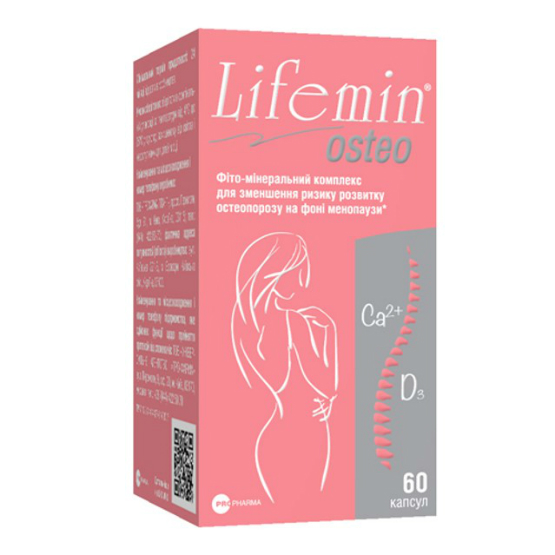 Dietary supplements
Lifemin OSTEO
Lifemin OSTEO
Lifemin OSTEO is a dietary supplement designed for women of menopause in order to reduce the risk of osteoporosis. Contains a daily dose of calcium and vitamin D3, which is optimal for menopausal women. You can read more about Lifemin OSTEO in the labeling text.
Information
Indications for use (instruction): Lifemin OSTEO
Lifemine® OSTEO is recommended to be used as an additional source of calcium macronutrient, vitamin D3 and natural estrogen-progestogen hormone-like compounds, such as steroid saponins (diosgenin, β-sitosterol), polyphenolic compounds, organic acids, methoxy esters menopause, to prevent calcium and vitamin D3 deficiency in women during menopause, to reduce the moderately pronounced vegetative manifestations of menopausal syndrome (hot flashes, sweating, irritability and nervous tension).
How to use
Adults (women) 1 capsule twice a day during or after meals. The duration of use is usually at least 30 days and can be adjusted individually by your doctor. Consultation with a doctor is recommended before use.
Contraindications
Sensitivity to any of the components, pregnancy and lactation, estrogen-dependent malignant neoplasms, urolithiasis, severe renal failure.
Composition
1 capsule contains:
Active Ingredients: Calcium carbonate – 1000 mg (equivalent to 400 mg calcium), Wild yam root extract (Dioscorea villosa) – 35 mg, Chinese angelica (Angelica sinensis) root extract – 25 mg, Vitamin D3 (cholecalciferol) – 300 IU ( 7.5 μg).
Excipients: anti-caking agent: magnesium stearate; capsule shell: gelatin, dyes: candurine (titanium dioxide, potassium aluminosilicate), special red.
Release form
60 capsules per pack, 1 capsule weight 1,065.6 mg (mg) ± 5%
Storage conditions
Store in the original package at 4 °C to 25 °C in a dry, dark place and out of the reach of children.
Manufacturer
LLC "PROFARMA PLANT", ave. Victory, 91, Kiev, Ukraine, 03115; tel .: (044) 422-50-70; actual address of production facilities (facility): st. Kiev, 221-B, Brovary, Kiev region, Ukraine, 07400.
Sanitary and hygienic conclusion
No. 602-123-20-2/37432 dated 08/31/2018
Advertising dietary supplements. Not a medicine.