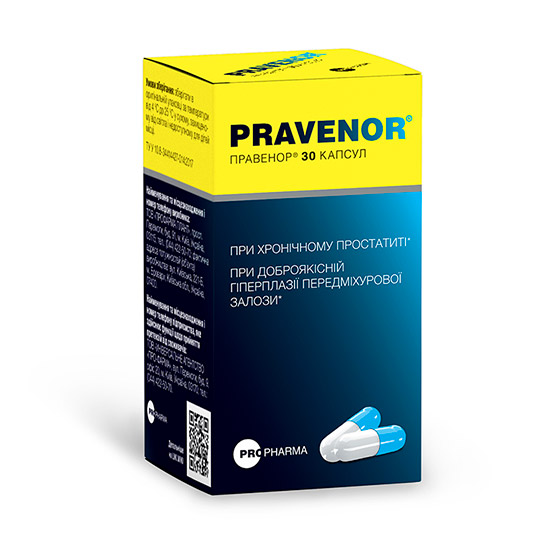 Urology
Pravenor
Pravenor
Complex plant-based biological additives Pravenor has anti-inflammatory effects and is intended for the prevention of prostatitis. Extracts of natural medicinal plants help to normalize urination in men with prostate disease, relieve its swelling and inflammation. Pravenor also has antioxidant and antibacterial effects, helps to normalize blood circulation in the pelvic organs and stimulates the production of testosterone, which improves the quality of a man's sex life.
Information
Indications for use (instruction)
It is recommended for chronic prostatitis, dyshormonal hyperplasia of the prostate due to antiandrogenic, anti-inflammatory, anti-edema and antioxidant effects on prostate tissue.
How to use
Adults (men) take one capsule per day, regardless of the meal, drinking plenty of drinking water. Application course – 1 month. If necessary, the course can be repeated after the break – 1 month. Before use, consult a doctor.
Contraindications
Do not take with individual sensitivity to the components.
Composition
1 capsule of a dietary supplement Pravenor contains extracts: dwarf palm berries – 160 mg, nettle – 100 mg, selenium methionine – 15 mg, ginkgo biloba – 20 mg, Japanese bitter gum – 20 mg.
Additional components: starch, microcrystalline cellulose, calcium phosphate, magnesium stearate, silica. Shell tablets: gelatin, dyes (titanium dioxide, indigo carmine).
Release form
30 capsules per pack
Manufacturer
PROFARMA PLANT Ltd., ul. Kyiv, 221-B, m. Brovary, Kyiv region, Ukraine, 07400