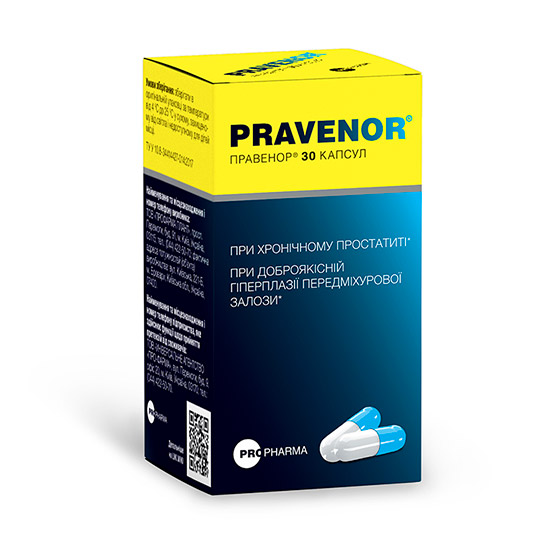 Dietary supplements
Pravenor
Pravenor
The complex of biological additives Pravenor on a plant basis has an anti-inflammatory effect and is intended for the prevention of prostatitis. To normalize urination in men with prostate disease, relieve swelling and inflammation.
Information
Indications for use (instruction): Pravenor
Pravenor is recommended as an additional source of flavonoids, tannins, steroid saponins, phytosterols, bilobalides, resveratrol, vitamins, macro- and microelements in order to normalize the functional state of the genitourinary system in men with chronic prostatitis, benign prostatic hyperplasia.
How to use
Adults (men) take 2 capsules per day, regardless of the meal, drinking plenty of drinking water. If necessary, the course can be repeated after the break – 1 month. Before use, consult a doctor. Not a drug!
Do not exceed the recommended daily dose. Should not be used as a substitute for a nutritious diet.
Contraindications
Do not take with individual sensitivity to the components.
Composition
1 capsule of a dietary supplement Pravenor contains extracts: dwarf palm berries – 160 mg, nettle – 100 mg, selenium methionine – 15 mg, ginkgo biloba – 20 mg, Japanese bitter gum – 20 mg.
Additional components: starch, microcrystalline cellulose, calcium phosphate, magnesium stearate, silica. Shell tablets: gelatin, dyes (titanium dioxide, indigo carmine).
Release form
30 capsules per pack
Manufacturer
PROFARMA PLANT Ltd., ul. Kyiv, 221-B, m. Brovary, Kyiv region, Ukraine, 07400
Sanitary and hygienic conclusion
602-123-20-2 / 14150 dated 02.04.2018 p.
Advertising dietary supplements. Not a medicine.