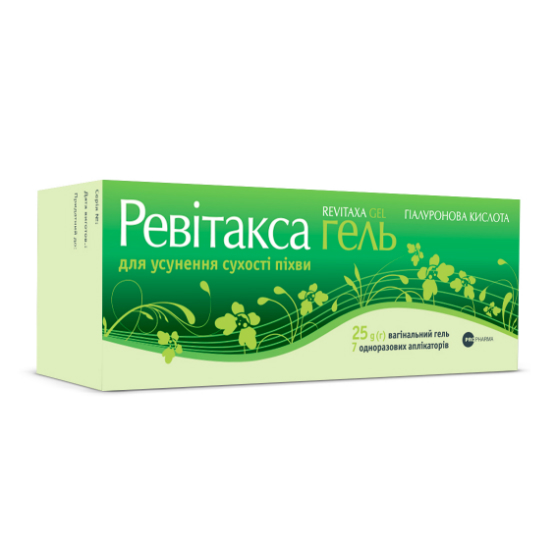 Preventive and hygienic means
Revitaxa Gel
Revitaxa Gel
Revitax Gel is recommended for eliminating vaginal dryness. The combination of low and high molecular weight hyaluronic acid helps moisturize the tissue, eliminate burning sensation and discomfort. Read more about Revitax Gel, indications for use and clinical characteristics in the instructions.
Information
Indications for use (instruction): Revitaxa Gel
REVITAXA GEL vaginal gel recommended for vaginal dryness:
In postmenopausal women with established atrophy of the mucous membrane of the vagina and feeling of irritation, itching and discomfort during sexual intercourse (dyspareunia).
In premenopausal women after recent surgical interventions in the genital area, this creates conditions for dyspareunia.
In women with atrophy or dystrophy of the vaginal mucosa due to the action of ionizing radiation, cryoablation, chemotherapy, corticosteroids, oral contraceptives, or any other medical intervention.
Promotes healing of the mucosa after childbirth.
Accelerates the healing of the mucous membrane after surgical gynecological procedures on the vagina.
Eliminates discomfort and inflammation in vaginal mucosa dryness due to aging or menopause-related estrogen deficiency to facilitate intercourse.
How to use
It is recommended to apply vaginal gel in the evening before bedtime or as recommended by your doctor.
Postmenopausal women with atrophic manifestations of vaginal mucosa and dryness due to low levels of endogenous estrogen are advised to systematically use vaginal gel.
For premenopausal women with recent surgical interventions in the genital area, the duration of administration depends on the rate of healing.
For women receiving irradiation, the gel should be used in parallel with radiotherapy.
REVITAXA GEL vaginal gel should only be used topically inside the vagina and/or externally in the genital area.
Wash hands before and after use.
Application in vaginal application
Remove the cap first before use.
Connect the applicator to the tube by rotating it.
Gently fill the applicator with the required amount of gel, setting the dose to 2.5 ml. Detach the applicator from the tube. Replace the cap after each use.
Do not leave gel in the applicator for more than 30 minutes before use. This means that after 30 minutes, discard the unused gel along with the applicator.
Lie on your back, gently insert the applicator deep into the vagina and push the plunger all the way.
Take out both parts of the applicator.
If necessary, you can remove excess gel from the vulva with a tissue.
Throw away the applicator after use.
External application
Apply a small amount of gel (equal to the content of the applicator) to the genital area.
Contraindications
Hypersensitivity to any of the product components.
Composition
Active ingredients: hyaluronic acid in the form of sodium hyaluronate, propylene glycol, carbomer, triethanolamine, purified water.
Release form
Package contains: 25 g vaginal gel in a tube and 7 disposable applicators.
Storage conditions
Store in the original package in a dry, dark place out of the reach of children at a temperature not exceeding 25 ° C. Use within a month after opening.
Manufacturer
HELP S.A., Greece.
Sanitary and hygienic conclusion
12.2-18-3 / 18754 from 08/16/2019.