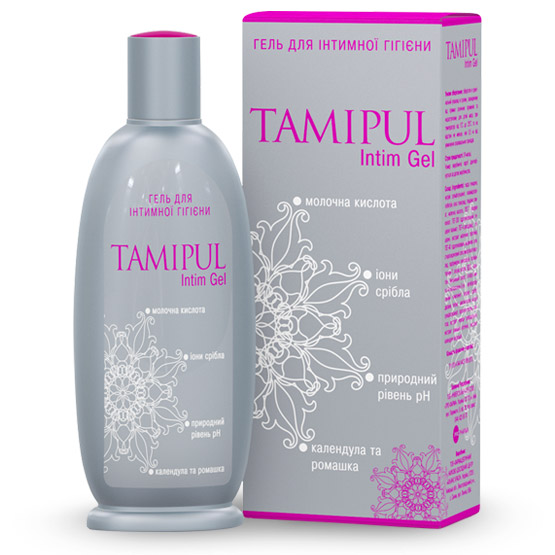 Cosmeceuticals
Tamipul Intim Gel
Tamipul Intim Gel
Intimate gel Tamipul gently cleanses and maintains the balance of the microflora of the intimate female zone. Lactic acid based composition balances the pH level, helps to avoid itching and unpleasant odor. Extracts of medicinal plants prevent the appearance of irritation. Silver ions have antibacterial action. In the composition there is no soap, only mild detergent components that do not irritate the mucous.
Information
Indications for use (instruction): Tamipul Intim Gel
Recommended for daily hygiene of intimate areas, reducing the risk of thrush, maintaining the natural balance of intimate microflora during menstruation, after intense exercise, while taking antibiotics, hormones, contraceptives, during menopause.
How to use
For external use only. Put on the palm of 5 ml of gel, dilute with water and lather, apply to the intimate area and then rinse with water. May be used several times a day.
Contraindications
Hypersensitivity to any of the components.
Composition
Purified water, sodium sulfosuccinate, lactic acid, glycerin, milk protein extract, PEG-40 hydrogenated castor oil, allantoin, benzyl alcohol, antibacterial component (silver chloride, titanium dioxide, diethylhexyl sodium sulfosuccinate, propylene glycol), lactose, extracts and trihydrohexyl sodium sulfosuccinate, propylene glycol extract, lactose, extracts, and trosylhexyl sodium sulfosuccinate extract chamomile, calendula extract medical, stabilizers and preservatives.
Release form
250 ml of gel in a bottle, packed in a box
Manufacturer
LLC "PHARMACEUTICAL RESEARCH CENTER "BEAUTY ALLIANCE", Ukraine.
Sanitary and hygienic conclusion
№ 05.03.02-04/101046