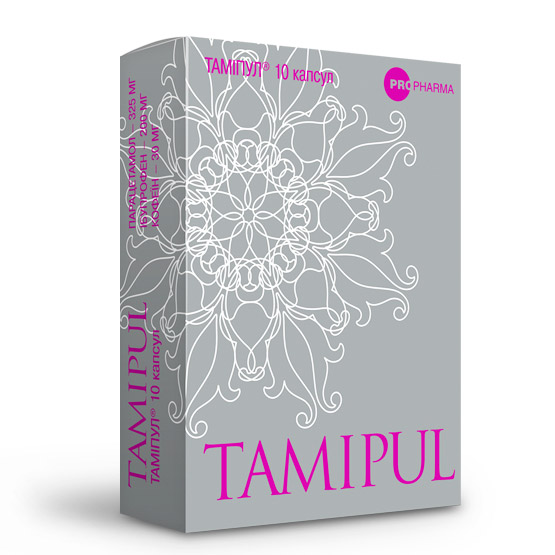 OTC
Tamipul
Tamipul
Tamipul is a combination drug that provides a comprehensive action against unpleasant symptoms on critical days. The action of the three components relieves pain, reduces fatigue and reduces swelling. Ibuprofen relieves and increases motor activity. Ibuprofen has an analgesic effect not only on recurrent pain, but also headache, back pain and muscle pain. Caffeine increases the ability to work, reduces fatigue and drowsiness.
Information
Indications for use (instruction): Tamipul
Pain syndrome of varying intensity:
dysmenorrhea and menstrual pain;
headache;
neuralgia;
myalgia
arthralgia
toothache.
Increased temperature (fever with flu and colds).
In the complex treatment of postoperative pain, relieving symptoms of rheumatoid arthritis and osteoarthritis.
How to use
Adults and adolescents over the age of 16 take 1–2 capsules every 4–6 hours, depending on the intensity of the pain syndrome and the recommendation of the doctor. The daily dose should not exceed 6 capsules. Children aged 12 to 16 years: 1 capsule 1-2 times a day. The capsule should be taken without chewing, drinking plenty of liquids (a glass of water). Typically, the duration of treatment is 3-7 days. If there is no improvement during this time, treatment should be reviewed.
The maximum period of use for children without consulting a doctor is 3 days.
The interval between doses is at least 4 hours.
Do not exceed the recommended dose.
Contraindications
Hypersensitivity to the components of the drug, gastric ulcer now or in history (two or more distinct episodes of acute peptic ulcer or bleeding) bleeding in the upper digestive tract or a history of perforation associated with previous treatment with nonsteroidal anti-inflammatory drugs; acute pancreatitis, severe liver and / or kidney dysfunction, congenital hyperbilirubinemia, glucose-6-phosphate dehydrogenase deficiency, alcoholism, blood disorders, severe anemia, leukopenia, thrombosis, thrombophlebitis, heightened arousal states; sleep disturbance; severe arterial hypertension; organic diseases of the cardiovascular system; glaucoma; epilepsy, hyperthyroidism, decompensated heart failure, impaired cardiac conduction, severe atherosclerosis, susceptibility to vasospasm, ischemic heart disease, prostatic hypertrophy, severe diabetes mellitus, allergic reaction (for example, bronchial asthma, rhinitis, Quincke edema) after using acetylsalicylic acid or other nonsteroidal anti-inflammatory drugs, the use of the drug simultaneously with non-steroidal anti-inflammatory drugs, the elderly patient.
Do not use together with MAO inhibitors (MAO), cyclooxygenase-2, and for 2 weeks after discontinuing their use; contraindicated in patients taking tricyclic antidepressants or beta-blockers. Gilbert's syndrome. Patient age up to 12 years.
Composition
1 capsule contains:
active ingredients: paracetamol 325 mg, ibuprofen 200 mg, caffeine 30 mg;
excipients: talc, colloidal silicon dioxide, sodium lauryl sulfate, gelatin, kandurin (silver luster), patented blue V (E 131), azorubine, carmoisin (E 122).
Release form
10 capsules per blister; 1 blister in packs.
Storage conditions
Store in original packaging at a temperature not exceeding 25 ° C in an inaccessible place for children.
Manufacturer
JSC "Grindeks", st. Krustpils, 53, Riga, LV-1057, Latvia.
Advertising of the drug. Be sure to consult your doctor and read the package leaflet before using this medicine.

This section of the site contains information about medicines, their properties, methods of use, as well as other specialized information that is intended for healthcare professionals. The information on medicines contained in this section is not a guide for self-diagnosis and / or treatment. LLC SA Pro-Pharma is not responsible for possible negative consequences arising from the independent use of information from this section. Using the information from this section, you do it yourself, understanding that: self-medication can be harmful to your health, you must read the instructions and consult a doctor before using medicines.