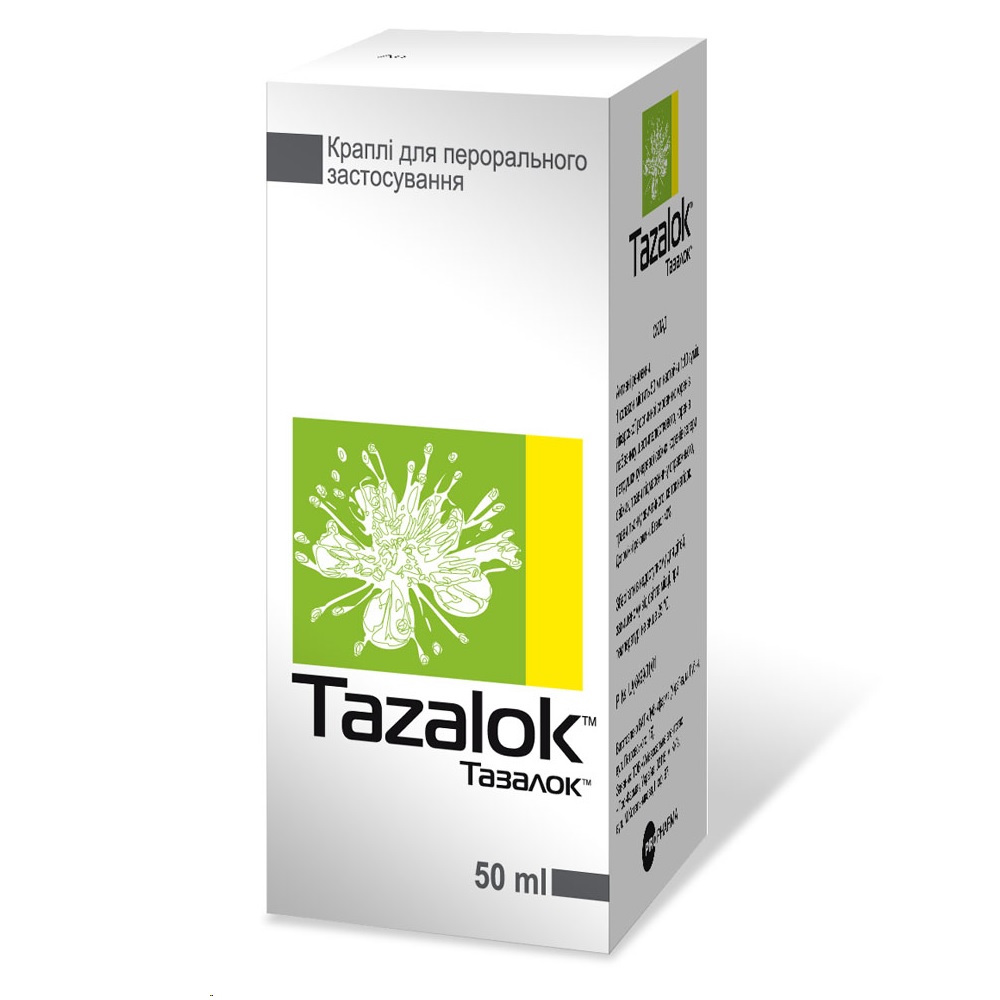 OTC
Tazalok
Tazalok
Herbal non-hormonal agent that helps to normalize the menstrual cycle and restore hormonal balance. Recommended for the relief of PMS symptoms. It has anti-inflammatory properties.
Information
Indications for use (instruction): Tazalok
Menstrual irregularities; premenstrual syndrome; algodismenorea, dysmenorrhea; fibrocystic mastopathy; retention ovarian cysts. As part of complex therapy, they are used for endometrial hyperplasia, uterine fibroids, endometriosis; polycystic ovary syndrome.
How to use
Dilute 30–40 drops in ½ cup boiled water at room temperature. Take 30 minutes before meals 3 times a day. Tazalok should be taken for at least 3 months, without a break for the period of menstruation. The daily dose can be divided into 2 doses. If complaints are resumed after discontinuation of treatment, therapy should be continued after consultation with a doctor.
Contraindications
Hypersensitivity to the components of the drug.
Composition
Active substances:
10 ml of the preparation contains a tincture of a mixture of medicinal plant material (1:10): roots of the six-petalled meadowsweet (Filipendula vulgaris Moench) – 0.28 g, roots of fresh curly parsley (Petroselini radix) – 0.225 g, fresh celery roots (Apiumi radix) – 0.17 g, herbs of the common salsa (Galii herba) – 0.135 g, herbs of the common lenok (Linariae herba) – 0.11 g, marigold flowers (Flores Calendulae) – 0.08 g (extractant – ethanol 40%).
Release form
50 ml or 100 ml, 1 bottle in a cardboard box.
Manufacturer
Dr. Gustav Klein GmbH & Cо. KG, Germany
Registration certificate
№799 from 26.04.2018
UA/8499/01/01
Advertising of the drug. Be sure to consult your doctor and read the package leaflet before using this medicine.

This section of the site contains information about medicines, their properties, methods of use, as well as other specialized information that is intended for healthcare professionals. The information on medicines contained in this section is not a guide for self-diagnosis and / or treatment. LLC SA Pro-Pharma is not responsible for possible negative consequences arising from the independent use of information from this section. Using the information from this section, you do it yourself, understanding that: self-medication can be harmful to your health, you must read the instructions and consult a doctor before using medicines.