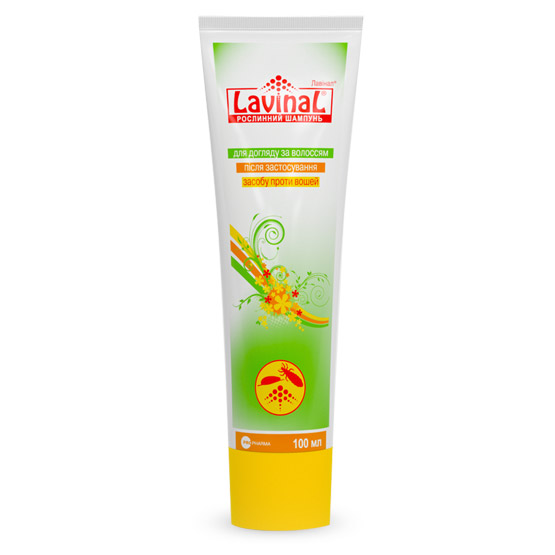 Therapy and medicine
Lavinal Shampoo
Lavinal Shampoo
Soft shampoo "Lavinal" is designed to care for the scalp and hair after the procedure of applying lice remover. The components of the composition soften the glue, on which nits are attached to the hair, due to which the tool facilitates the combing of parasites. Does not contain lauryl sulfate, therefore it does not dry the scalp and does not spoil the hair. Essential oils of ylang-ylang and rosemary have a healing effect on the wounds that are formed after scratching the head from lice bites. Rosemary has a deterrent effect on parasites, preventing re-infection. The use of shampoo helps to restore the structure of the hair, to prevent its softness, silkiness and healthy appearance.
Information
Indications for use (instruction): Lavinal Shampoo
It is recommended for hair and scalp care after applying any cure for lice and nits.
How to use
Use herbal shampoo Lavinal daily for 1-2 weeks. Suitable for daily use by adults and children from 2 years.
Apply Lavinal shampoo to moisturized hair immediately after washing off the anti-lice product.
Wait a few minutes.
Wash off shampoo.
Carefully comb the hair with a special thick comb of lice and nits (included in the Lavinal spray kit).
Contraindications
Hypersensitivity (allergy) to the shampoo components.
Composition
Distilled water, disodium sulfosuccinate, ylang-ylang essential oil, rosemary essential oil, citric acid, cocamidopropyl betaine, PEG-40 hydrogenated castor oil, glyceril oleate, cocoglucoside, PEG-150 polyglyceryl-2 stearate, disodium cocohydrate, tweetera, pecoglucoside, PEG-150 polyglyceryl-2 stearate, disodium cocoaff, polikvartenium-7.
Manufacturer
PE Charlie, Ukraine.
Sanitary and hygienic conclusion
№05.03.02-04/37542

This section of the site contains information about medicines, their properties, methods of use, as well as other specialized information that is intended for healthcare professionals. The information on medicines contained in this section is not a guide for self-diagnosis and / or treatment. LLC SA Pro-Pharma is not responsible for possible negative consequences arising from the independent use of information from this section. Using the information from this section, you do it yourself, understanding that: self-medication can be harmful to your health, you must read the instructions and consult a doctor before using medicines.